Information
More Information


SWR ANALYZER
1.8-500MHz SWR ANTENNA ANALYZER W/ GRAPHIC DISPLAY CAA-500MARKII SWR ANALYZER RADIO ACCESSORIES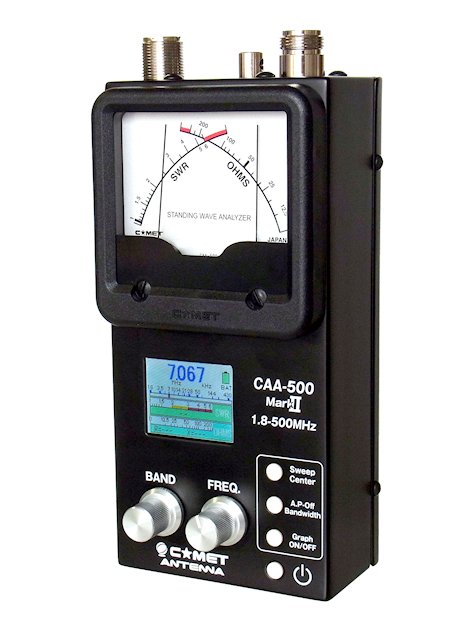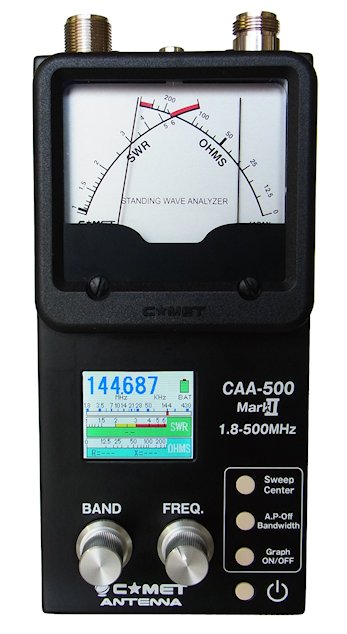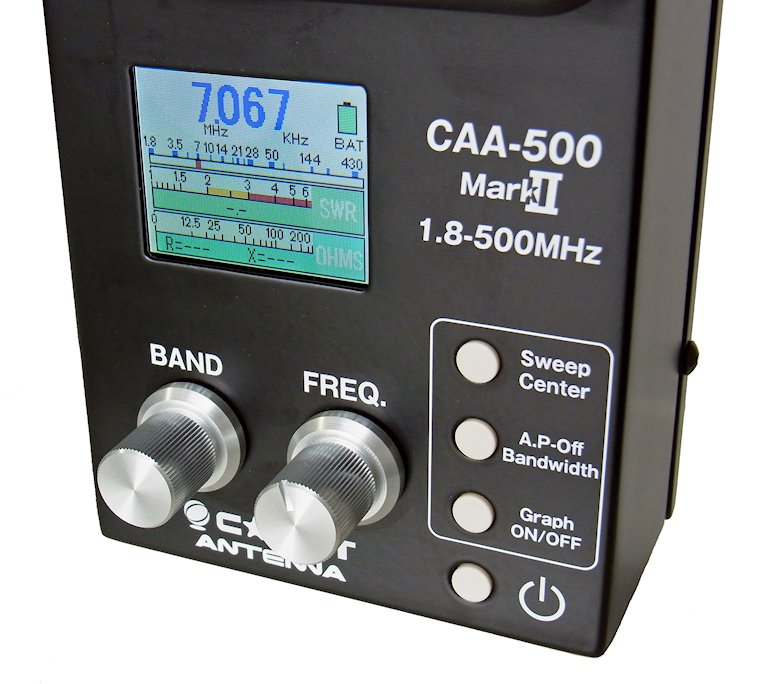 CAA-500MarkII
Comet was the first to offer a wide-range SWR analyzer covering 1.8-500MHz including 220MHz band with the CAA-500.
The CAA-500 is a very accurate, simple to use SWR and impedance analyzer to find antenna resonance and make quick antenna adjustments. The analog cross-needle meter displays SWR and impedance simultaneously as you sweep the chosen
frequency range, instantly providing the information needed.
The NEW COMET CAA-500MarkII retains the cross-needle analog display and adds a full-color TFT LCD screen providing graphic and numerical SWR values along with total impedance with R and X values.
FEATURES
* Auto band-sweep function: Switch to the amateur band of choice and press the "Sweep Center" button. The chosen band is swept and SWR graphed in seconds.
* Manual band sweep function: Select the band, select the center frequency, and select the bandwidth to manually sweep the chosen range
* Multiple manual sweeps: You can overlay manual sweep results in 5 different selectable colors!
Make antenna length, position, height above ground, gamma match adjustments etc., and graph each adjustment in seconds in a new color without losing the previous graph!
* 8-16VDC external power or 6 AA Alkaline batteries (up to 10 hours of operation) or Nickel-Metal Hydride (NiMH)
* Trickle charger built in (only for NiMH batteries)
* Battery indicator light
* Selectable auto-power off time limit
* SO-239 connector for 1.8-300MHz range
* N-male connector for 300-500MHz range
The CAA-500MarkII retains the simplicity of analog measurements and adds a full color LCD to visually display adjustments and antenna properties