Information
More Information


HF 50 144 440mHz MOBILE
10 WATT HF/50/144/430 MHZ HF/50/144/440 MOBILE 6m 2m 70cm Transceiver RADIO

HF/50/144/430 MHz ALL MODE
Your New Partner for Field Operations
From HF to 50/144/430 MHz, you can enjoy a variety of bands in D-STAR DV,
SSB, CW, AM and FM modes. The IC-705 receives continuously from the
medium wave broadcast band to 144 MHz band. You can also enjoy FM
broadcast and air band reception.
RF Direct Sampling System
The IC-705 uses the RF direct sampling method* matured in the IC-7300,
IC-7610, and IC-9700. This method greatly reduces distortion. The high speed
/high resolution real-time spectrum scope and waterfall display are incorporated
in a compact design for the _rst time in this class.
* Down-conversion IF sampling method for 25 MHz and above
Real-Time Spectrum Scope and Waterfall Display
The IC-705 inherits the performance and
functions of the highly-acclaimed IC-7300
and IC-9700 scopes. You can visually _gure
out the band condition and check clear
frequencies. It takes you to the next level
beyond traditional field operation.
Max Output Power 10W(13.8VDC), 5W(BP-272) Supports QRP/QRPp Operations
Despite being a portable radio, it achieves the maximum output power of 10 W
with a 13.8 V DC external power supply. When the standard BP-272 Li-ion
battery pack is used, operation at the maximum output power of 5W is possible.
True 5W QRP as well as 0.5 watt QRPp are supported.
microSD Card Slot
The IC-705 is equipped with a microSD card* slot that can be used for firmware
upgrades, programming and so on, as well as voice recordings and saving GPS
log data.
* microSD card is not supplied.
Bluetoothr and Wireless LAN
Bluetooth and wireless LAN are built-in. They can be used for smartphone linking and remote control, and also for Bluetooth headsets.
GPS Antenna and GPS Logger
A high-performance GPS antenna is incorporated. In the D-STAR DV mode, you
can send and receive location information while communicating. This high-performance GPS enables various functions such as GPS log function and repeater search function.
Full Equipped D-STAR Functions
The IC-705 is fully equipped with functions to enjoy D-STAR comfortably, such as the DR function and Terminal Mode/Access Point Mode. In addition, you can
send/receive and view saved photos using only the IC-705 without any
application software.
Speaker Mic is Standard
The speaker-microphoneis equipped with programmable buttons assignable to various functions, such as frequency adjustment and volume control.
Optional Backpack, LC-192, Ideal for Field Operations
The IC-705 _ts perfectly in the optional dedicated LC-192 multi-function backpack. It has various functions, such as holes for the antenna and holes
for passing through coaxial cable and microphone cable. You can easily operate the IC-705 with it in the backpack.
Large Touch Screen Color Display
The large 4.3 inch touch screen color display is the same size as the one used in the IC-7300 and IC-9700. It dramatically improves visibility and operability in the fields.
Compact and Lightweight Design
"Base station radio" performance and functions are packaged in a compact size of approximately 20 cm, 7.9 in (W) x 8 cm, 3.1in (H) x 8.5 cm, 3.3 in (D). The weight is approximately 1 kg (excluding battery pack and antenna). Its compact and
lightweight design enables you to hold it with one hand.
The BP-272 Li-ion battery pack comes with the IC-705. This is the same battery pack used in the ID-51 and ID-31 handheld transceivers. Of course, a 13.8 V DC external power supply can be used as well.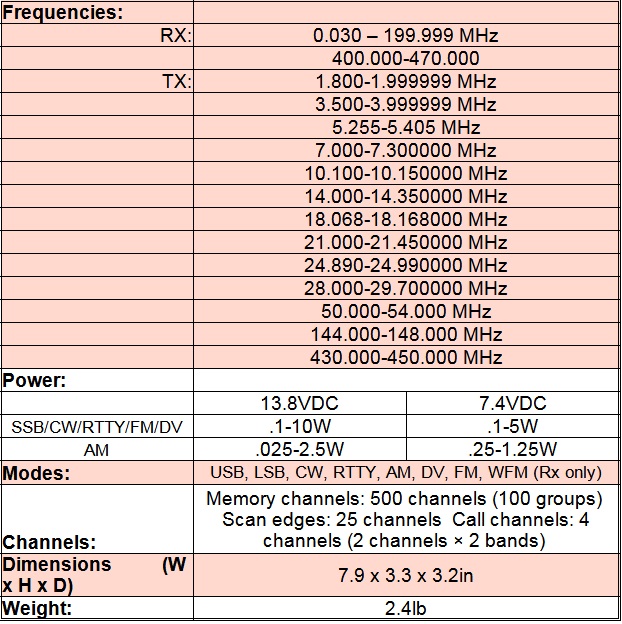 Accessories for ICOM IC705